MY STORY

Visiting My Roots
From This
To This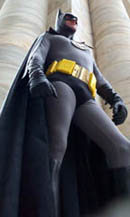 And This
And This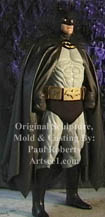 And This
BIO: My life waiting to be Batman.
My name is Paul Roberts. I was born in 1965 in Detroit Michigan. I was
raised in Sarasota Florida. I graduated from The Maryland Institute
College Of Art in 1987. I currently live in Orlando Florida.
I have always been a true Batman fan since I watched the first runs of
the Adam West Batman TV show at age 2-3. I was always riding on my
pretend Batmobile Big Wheel and sliding down the Bat Pole pipes in my
basement bat cave. I really wanted a Batman Mask to go with my towel
but they just were not easily found way back then. One day my
grandmother sat down at the sewing machine to make me a batman mask. I
was so excited. I would finally be Batman.
It sucked. I mean it was really lame. I still remember how it looked to
this day. Sadly I went through life without my Batman Mask. I would
never be Batman. I guess I will be an artist instead and I was. Of course I
started out by drawing superheros.
I grew up and was thrilled to see the Superfriends and then the Batman
movies, though the writing could be a lot better with the movies, they
really nailed the feel and the costumes and props. I decided I liked
the Batman Returns Cowl the best. That would be my mask. I need that mask.
Note: I am a fan of Batman Returns because the suit is not as crude as
the first movie's, as Bruce Wayne can afford better. It is purely
practical and not as "Pretty Boyish" as the others, as Batman is working
through difficult psychological problems and concentrating on his
societal rectification efforts which doesn't allow him the time or the
need for such foolishness or vanity. Plus Cat Woman is only in Returns.
Nuf said.
Then one day while I was visiting my friend's house I was checking out
his brothers mask making shop. He knew everything about making masks
and props and he said he would show me how to make my own mask and start
me off by making a mold of my head and shoulders. He and his brother
did this for me and so I started sculpting my mask on my plaster head.
They didn't understand why I didn't want to make a monster mask but any
way I pressed on. I did not stop until the Returns Cowl was absolutely
perfect, or as close I as I could tell based on many pictures I had and
the fact that my head was a slightly different shape than Keaton's.

This is my first Batman cowl sculpture. I completed it in 1993 and went on to make a Batman costume for myself.
Back then that was the only way you could get one.
I am a fan of Batman Returns because the suit is not as crude as the first movie's, as Bruce Wayne can afford better.
It is purely practical and not as "Pretty Boyish" as the others, as Batman is working through difficult psychological
problems and concentrating on his societal rectification efforts which doesn't allow him the time or the need for such
foolishness or vanity.
Plus Cat Woman is only in Returns. Nuf said.
The mask came out beautifully and fit great. I was finally able to have
my Batman Mask after twenty five years but I decided it was not
enough. I did not just want to display it. I needed to wear it. I
needed a suit. Putting a towel on my back may have worked when I was 4
but I needed something better now. I needed the best and I knew I could
do it. So I sculpted the full armor and the boot spats. I then
acquired a movie belt and symbol and made a full suit. I wore it twice
and then displayed it on a mannequin for eight years. That was back in
"93." One day when my video production, art and design business was
slow and I was cleaning the closets I found an extra pair of boot
spats. I figured I would never need them since I had my costume
finished why not get rid of them. I put them on Ebay and Boom, they hit
the hot list and made $660.00. Wow! There was someone out there
besides me that wanted to be Batman. Huh? Imagine that. I always
thought I was the one true Batman.
So, I started searching and people also contacted me. I found some
great bat sites including the BOTB Board. I soon found that I was not
alone and everyone I met was surprised that I have been sitting on this
stuff and not doing anything with it for so long. I was not sure I
wanted to share my Batman Stuff. After all there was only one Batman
and this was special to me. It was too special to share.
To make a long story a little less long but still long, (sorry) I decided to share my dream with others.
As I perfect my Batman suit over the years I occasionally find myself with extra pieces parts and variations.
I occasionally offer these to my other "would be Batman" partners.
I have found that sharing my interest in Batman has made many
people just as happy as me. This makes me feel good and since I remember
what I felt like when I became Batman finally after all those years, now
I can relate to all of the "would be Batman" Bat fans out there.
This is part of who I am. It is an integrated part of who I was born to
be. The world needs a Batman and one day I believe the real Batman will
emerge from the abstracts of our twisted society and attempt to make
right some of the wrongs of the world.
Bob Kane didn't invent Batman. Batman is a twist on Zorro which is a
twist on something else which is a twist on all the heroes through the
ages. Society needs a hero that comes from within and comes out of the
hidden realms of secrecy when we all need him most. He foils the evil
doers and then and hides back into solitude so that we all know he will
be safe until he is needed again.
When the trade centers fell my mom said where was Batman? I feel he
doesn't exist yet but some day he will. In fact he does exist now in
the hearts of many of us. We are just not qualified to act on our
impulses without foolishly getting killed in the process. I believe
Batman in coming. That man will have to be very well qualified and our
imaginations and the legends that they create will serve to fuel this
newcomer's ideas.
I enjoy being a part of the fantasies of the one hero that is the most
realistic one there is. He could actually exist in reality. Big money,
countless special abilities, infinite high-tech gadgetry and limitless
burning desire to right wrongs is all it takes to be Batman. This
combination could exist in the right person some day.
This is my interest and so I follow it because I know it is important
and all pervasive. Superman will never come. I believe Batman will. He
may not wear a cape but to some extent we all have the capability of
doing Batman like things and many do them every day. That is my Batman
story and I hope I can help others follow their interests as well. If
you want to dress as Batman it is primarily because in your heart you
share some of the same ideals. Enjoy.
Yours Truly,
Paul Roberts
Me In My Batman Returns Suit